We Hang Christmas Lights!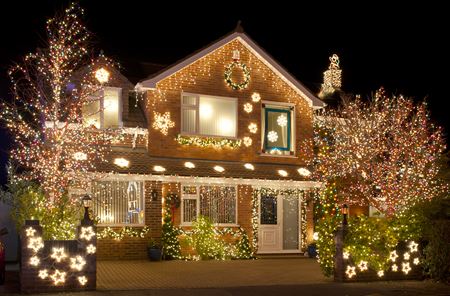 The holidays are just around the corner, and nothing can get people in the spirit quite like Christmas lights. The twinkling lights hanging from rooftops, wrapped around poles, and lighting up trees are a big part of what makes this time of year feel so special. At Midwest Softwash and Pressure Wash, our professionals can install Christmas lights at your home to make sure that it's festive and attractive as the holiday season nears.
We'll be happy to help you turn your decorating ideas into a reality. We'll work with you directly to design your new Christmas lights setup, and we'll make sure that you're totally happy with the design and the installation. Let our Illinois home improvement professionals take care of the work of hanging your Christmas lights while you have some hot cocoa or egg nog and spend time with your friends and family.
Whether you're looking for a simple and elegant design or a stunning over-the-top display, our Christmas light installers will be ready and eager to tackle the job.
Design Consultation
All of our Christmas light installation jobs will begin with a design consultation, during which we'll help you design the perfect layout and choose the best lights for your home.We customize every design to make sure that they're perfect for each of our clients. We'll discuss specific ideas and looks, and we'll help you come up with ideas. Our Christmas light installers will help you make your vision a reality.
Christmas Light Installation
Our experts have the experience, skills, and equipment to install your Christmas promptly and ensure that they're totally functional and attractive. We'll do whatever it takes to install your lights quickly, efficiently, and without any hassles. We take pride in providing our customers with quality professional installation to ensure your lights are installed with the utmost care.
Christmas Light Removal
Come season's end, our crews will be back to take down your display with the same attention to detail and care as your installation. Removals begin January 2 and go through January 20 (weather permitting).
Types of Lights and Decor We Have Available:
Classic C-9 Large Bulb
C-7 Lights
Mini-Lights (Clear, Color, or Multi-Color)
Icicle Lights
Wreaths, Bows, and Bells
Animated Displays
Pole-Mounted Decorations and Banners
Recent Christmas Lights Installation Articles
Looking For Christmas Lights Hanging Service?

Hanging the Christmas lights is a family tradition in Terre Haute that dates back ages. Most families hang the Christmas lights right after Thanksgiving. It really is a wonderful time to put up the tree and to decorate the house. But, many people don't really enjoy […]
If you're looking for Christmas light installations in Illinois, call Midwest Softwash and Pressure Wash at 217-218-6453, or fill out our online request form.