Pressure Wash All Your Danville Concrete Surfaces Sparkling Clean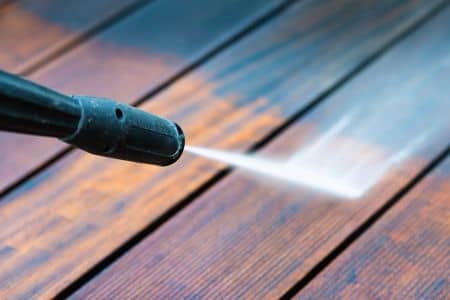 If you have concrete or brick surfaces on your exterior property, you know it can be a challenge to keep them clean. The driveway and garage succumb over time to grease and oil spots. The back patio will probably suffer deep set grass or rust stains. The paver walkway will eventually have mildew. These are all common issues that are easily controlled with quality pressure washing. At Midwest Softwash and Pressure Wash we offer Danville the best pressure washing services available. Our controlled pressure systems make short work of grime and stains utilizing the amazing power of high pressured water. With our pressure washing equipment, we'll cut right through layers of grime and dirt that have accumulated over years. Even the toughest of rust stains are no match for Midwest Softwash and Pressure Wash. We also offer gum removal.
With Midwest Softwash and Pressure Wash, your concrete surfaces will be the cleanest they've ever been. We'll restore the beauty they held when they were newly installed. Don't hesitate to bring back the beautiful exterior your home deserves with Midwest Softwash and Pressure Wash pressure washing services.
Roof Cleaning That Restores Your Danville Roof
Black streaks that seem to accumulate on your roof over time turn one of the biggest parts of your exterior design into an eyesore. This will negatively affect your curb appeal and overall give your home an older and duller appearance. In some extreme cases, you may even be convinced that a new roof is what you need. Before going that far, see what Midwest Softwash and Pressure Wash's roof cleaning services can do for you.
Midwest Softwash and Pressure Wash is the only certified roof cleaning specialist in Danville. Our non-pressure cleaning process is recognized as the safest and most effective way to clean roofing shingles. The solution we use soaks deep into the roots of your mold and mildew stains, leaving behind a gorgeous and new looking roof. Letting Midwest Softwash and Pressure Wash clean your roof has a number of other benefits too. Maintaining your roof will add years of life to it. Also, removing dark spots from your roof helps it to not absorb so much heat so your energy bill will be lower.
Increase Your Danville Property Value with Whole Exterior Washing
Before people experience any of your Danville home's interior design, they will see its exterior. Over time siding or wood will gather mildew and other unsightly stains. For awhile these will be easy to ignore, but one day you'll get a look from farther away and realize your home looks drab and old. The best way to revitalize your home's exterior is with a whole exterior washing from Midwest Softwash and Pressure Wash. Our pressure washing and softwashing methods are tried and true, and we can clean any surface. We'll clean your pavers, your driveway, your siding, your porch, your deck and your fences. Anywhere where mildew can grow on your exterior, we can clean it. Your house will look new, your exterior will look pristine and you can take pride in your home again. Don't let your house become dull and lifeless. Call Midwest Softwash and Pressure Wash and let us show you what a thorough exterior wash can do for you.