Pressure Washing And Softwash For Your Peoria, IL Home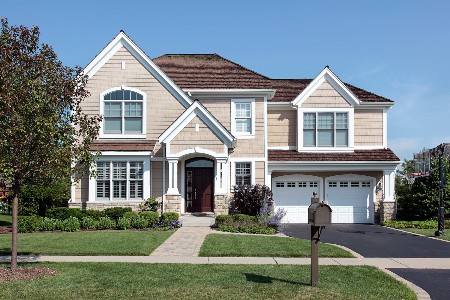 The experts at Midwest Softwash and Pressure Wash are here to help with Peoria, IL's pressure washing needs. As the community's expert in pressure washing and exterior surface cleaning services, we have the skill, equipment, and know-how to get the job done effectively and efficiently. With a single call to Midwest Softwash and Pressure Wash, we'll get to work to help your Peoria, IL property and provide the top quality pressure washing services you are looking for.
Gutter Cleaning - Keep Your Peoria, IL Home Safe and Dry
Gutter cleaning is an essential part of home maintenance, as clogged gutters can lead to water damage and costly repairs. Midwest Softwash and Pressure Wash has the expertise and equipment to keep your home's guttering system functioning properly and protect your Peoria, IL property.
Gutter cleaning helps to prevent water from entering your home and causing problems to the roof, walls, and foundations. It also helps to reduce the risk of flooding, mold, and pest infestation. Our team of experienced technicians can quickly and safely clean your gutters, and pressure wash them to remove any debris or dirt.
The benefits of gutter cleaning include:
Improved drainage
Reduced risk of water damage
Protection from pests
Prevention of mold growth
To keep your Peoria, IL home safe and dry, contact Midwest Softwash and Pressure Wash today at 217-218-6453} for reliable gutter and pressure washing services.
Walking Path Washing & Sidewalk Cleaning In Peoria, IL
Sidewalks tend to collect their fair share of grime over time, thanks to the tread of countless individuals and pets, which can make them somewhat slick and dangerous. If you're one of the many local Peoria, IL property owners out there in need of professional sidewalk cleaning for your property, Midwest Softwash and Pressure Wash is your local source for pressure washing for Peoria, IL, and you can count on us to get the job done right. Are you looking for a professional pressure washing company you can trust with all of your sidewalk cleaning needs? If so, give our team of skilled professionals a call today, and let us show you the kind of quality results that have helped make us the most trusted name in sidewalk cleaning and exterior cleaning.
As the premier pressure washing pros serving the area, our team of skilled professionals can help with all of your sidewalk cleaning needs, no matter what kind of shape your sidewalks are in. With the help of our skilled sidewalk cleaning pros, you can get the service you need to keep your property's sidewalks and other walkways clean and looking great year after year. If you have any questions about our full line of high-quality sidewalk cleaning services, or if you'd like to schedule an appointment for a consultation, give us a call today. Our team of experts is always standing by and would be happy to assist you in any way we can.
Walking Path Washing - Keeping your walking paths clean and safe for traversing is incredibly important as a homeowner. Not only does a clean, non-slip walking path help ensure your safety, but also that of your family, friends, and any other visitors to your home. If you need help with walking path washing for your Peoria, IL home, give our team of skilled pressure washing experts a call today.
Remove Gum, Stains, & Grime From Your Sidewalks - If you're like most property owners, your sidewalks see their fair share of abuse. Between discarded lumps of gum, stains from excessive foot traffic, and the natural grime that builds up on concrete over time, your sidewalks can easily become an eyesore if you don't keep up with cleaning them. By regularly cleaning your sidewalks, however, you can quickly and effectively remove even the most stubborn of stains and stuck-on gum, providing you with a sidewalk surface that looks like new.
Bring New Life to Your Peoria, IL Fence with Professional Washing
Are you looking for professional fence washing services in Peoria, IL? Look no further than Midwest Softwash and Pressure Wash! We specialize in pressure washing and offer top-notch fence washing services to homeowners and businesses in Peoria, IL and beyond.
Fence washing is an important part of keeping your home looking its best. Fences can accumulate dirt, dust, pollen, and other debris, making them unsightly and detracting from the overall appearance of your property. Pressure washing your fence can help to restore it to its original look and make your home look its best.
The Benefits Of Regular Driveway Washing in Peoria, IL
Don't let a dirty driveway detract from the appearance of your property. Call Midwest Softwash and Pressure Wash at 217-218-6453 today to schedule your concrete cleaning service and enjoy a cleaner, safer, and more attractive property. Our team of experienced pressure washers is here to help, and we're always happy to answer any questions you may have about our services. So what are you waiting for? Call us today to get started!
Midwest Softwash and Pressure Wash specializes in providing high-quality driveway washing services for homes and businesses in Peoria, IL. If you're looking for a reliable, affordable way to keep your driveway looking its best, look no further. We're here to help.
Pro Deck Cleaning in Peoria, IL For A Perfect Outdoor Living Space
Midwest Softwash and Pressure Wash provides professional deck cleaning services to homeowners in Peoria, IL. Deck cleaning is a crucial part of deck maintenance that ensures your deck stays in great condition year-round. We utilize pressure washing to effectively clean your deck, removing dirt and grime buildup that can cause rot and damage. Midwest Softwash and Pressure Wash is the best choice for your deck cleaning needs - contact us today at 217-218-6453 to learn more!
Wood and composite wood decks require special care, and our team is experienced in providing the proper attention to keep your deck looking its best. We are committed to providing top-notch cleaning results that will have your deck sparkling and pristine. Call us today to learn more about our deck cleaning services. You can trust Midwest Softwash and Pressure Wash to provide the perfect deck cleaning experience!
House Washing & Residential Softwashing Specialists Serving Peoria, IL
Homeowners have trusted Midwest Softwash and Pressure Wash with house washing due to our professionalism and care when restoring your home to its full potential. Our softwashing method has established as an industry-leading method for complete home exterior cleaning.
A dirty-looking home exterior due to dirt, grime, algae, and mildew diminishes curb appeal and adds stress to your life. If that buildup isn't washed away properly by a knowledgeable house washing professional, your home could come away damaged with an incomplete clean.
That's why in addition to Peoria, IL pressure washing, we offer softwashing.
Our softwash house washing technique uses a stream of water at a slightly higher pressure than a gardening hose. Whereas pressure washing can damage your home's siding and features, softwashing comes at almost zero risk of surface damage. Softwashing also uses significantly less water, saving you money.
We also use grade-A biodegradable cleaning detergents that are gentle on your home and the environment but tough on stains and debris, so your house will be sparkling clean at no risk to your landscaping.
These detergents also stick around to protect your home from future stains and growth, meaning that you will have more time in between washings, saving you money.
So, if you're looking for a house washing service that is professional, reasonably priced, and knowledgeable about what's best for your home, call Midwest Softwash and Pressure Wash.
Areas We Service Aside From Peoria, IL
You can rely on Midwest Softwash and Pressure Wash for pressure washing in Peoria, IL. We have the skillset, abilities, and gear required to give our community the best pressure washing service. We're happy to help property owners in the following places:
Charleston, IL
Decatur, IL
Peoria, IL
Champaign, IL
Mattoon, IL
Bloomington, IL
Danville, IL
Effingham, IL
Collinsville, IL
Terre Haute, IN
Springfield, IL
Decatur, IL
Greenup, IL
Janesville, IL
Bradbury, IL
Diona, IL
Timothy, IL
Union Center, IL
Casey, IL
Martinsville, IL
Clark Center, IL
Marshall, IL
Livingston, IL
About Peoria, IL
Peoria, IL is a vibrant city nestled along the Illinois River, boasting a rich blend of history, culture, and natural beauty. With its stunning architecture and picturesque landscapes, Peoria deserves the highest level of care and maintenance. Our professional pressure washing services are designed to rejuvenate and restore Peoria's surfaces, eliminating years of dirt, grime, and weathering, and ensuring a cleaner, more inviting environment for residents and visitors alike.
Don't wait to witness the remarkable transformation that pressure washing can bring to Peoria. Take action today and contact us to schedule your pressure washing service, and let us preserve the allure of our beloved Peoria, IL for generations to come.
Clean Your Exteriors With Midwest Softwash & Pressure Wash