Your Midwest Gum Removal Experts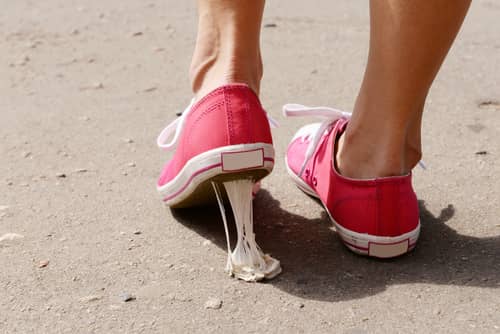 Whether it is an airport, playground, bus station or grocery store, every public area will eventually become covered with unsightly little black spots. Those spots are chewing gum. The gum adheres to concrete surfaces on one side while the other collects dirt and dust. Gum is difficult to clean off and will often stain the surface underneath when successfully removed. Midwest Softwash and Pressure Wash are the experts in commercial pressure washing and we know how to deal with gum. We've been degumming businesses in Illinois and surrounding Midwestern areas since 2010. Our controlled pressure washing techniques are proven effective and we have built a reputation on reliable cleaning services. When a Midwest Softwash and Pressure Wash technician comes out to wash your surfaces, rest assured all gum and stains will be removed and the area will look as good as new. We are the number one gum removal experts in the Midwest.
When people walk up to your establishment, stepping in gum or dodging a mine field of gum bombs will not leave a good impression. Beyond these hazards, it also has a negative impact on the aesthetics of your entire exterior design. Having your surfaces cleaned of gum removes all these negative aspects while returning your exterior to its professional former glory. A clean parking lot or breezeway will be much more inviting to potential customers. Degummed bus stop benches are also safer and freer of germs. The benefits of gum removal for your commercial exterior spaces are countless. If you are experiencing gum build up, call on Midwest Softwash and Pressure Wash today.
Our Gum Removal Experts Provide the Following Services
Degumming
Concrete Cleaning
Pressure Washing
Brick & Siding Washing
Cleaning Tips From Your Midwest Pressure Washing Company – Midwest Softwash and Pressure Wash
Insurance Companies Are Noticing Dirty Roofs

Homeowners across the county are receiving letters from their insurance companies threatening to cancel their home policy due to the algae/fungus that is growing on the roof. It is happening more and more and across all parts of the country. This video shows a homeowner that […]

Top Reasons to Hire a Danville Roof Cleaning Service

There are several different benefits to having your roof cleaned by a professional exterior cleaning company. Your roof is a strong, solid structure that requires the proper maintenance to ensure its longevity. Part of the proper roofing maintenance involves cleaning your roof regularly. Roofs can be made […]