Your Number One Apartment Complex Pressure Washing Contractors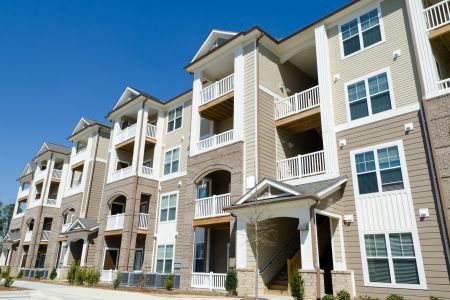 Apartment complexes and multi-family properties are a very competitive market. One of the deciding factors that will determine whether a potential tenant will even stop to inquire about rates is the look of the exterior of your buildings. The cleanliness of your buildings is a reflection of how well the entire property is maintained. That is why Midwest Softwash and Pressure Wash is your number one resource for apartment complex cleaning. At Midwest Softwash and Pressure Wash we have the tools and training to get the job done fast and leave your property sparkling clean. Don't scare tenants away to your competitors. Let Midwest Softwash and Pressure Wash restore the beauty of your property with quality pressure washing and soft washing services.
At Midwest Softwash and Pressure Wash, we thoroughly clean every part of your apartment complex. From the sidewalks and breezeways to the pool area and balconies, no matter what building material the area is made of, we can clean it safely and effectively. We also soft wash the roofs, so your shingles stay intact but all the black mold is removed. We have the equipment to clean your brick, concrete or siding buildings as well as wooden patios. We remove gum from your walkways and oil stains from your parking lot. We also remove rust from your metal surfaces and clean your fences and dumpster pads too.
Regular cleaning of your property can also reduce your maintenance costs. By having your walkways and concrete surfaces cleaned regularly you reduce the amount of dirt and grease that is tracked into your units. This keeps the carpets and other parts of your units cleaner and results in less individual maintenance calls.
The bottom line is, the cleaner your buildings the more chance new tenants will want to rent from you and existing tenants will want to stay. Remember, your buildings make an impression on their guests too. If you want to create an inviting environment that people feel comfortable living in, call Midwest Softwash and Pressure Wash and let us show you the power of our softwash and pressure washing services.
Our Apartment Complex Cleaning Professionals Provide the Following Services
Sidewalk & Breezeway Cleaning
Siding Cleaning
Roof Cleaning
Gum Removal
Oil & Grease Stain Removal
Dumpster Pad Cleaning
Parking Lot Pressure Washing
Balcony Cleaning
Patio Cleaning
Cleaning Tips From Your Midwest Pressure Washing Company- Midwest Softwash and Pressure Wash
Insurance Companies Are Noticing Dirty Roofs

Homeowners across the county are receiving letters from their insurance companies threatening to cancel their home policy due to the algae/fungus that is growing on the roof. It is happening more and more and across all parts of the country. This video shows a homeowner that […]

Top Reasons to Hire a Danville Roof Cleaning Service

There are several different benefits to having your roof cleaned by a professional exterior cleaning company. Your roof is a strong, solid structure that requires the proper maintenance to ensure its longevity. Part of the proper roofing maintenance involves cleaning your roof regularly. Roofs can be made […]