The Premier Home Owner's Association Pressure Washing Experts in the Midwest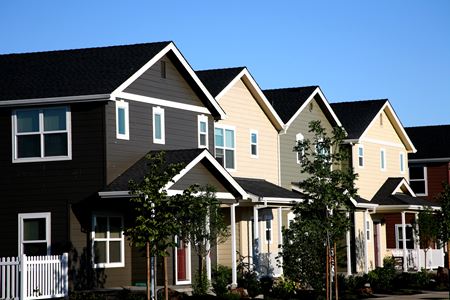 Home Owner Associations exist to protect neighborhood property values. The benefit to the neighborhood is that there will be a standard of appearance as well as housing upkeep that will keep each individual's property at peak value. This means that the HOA has a responsibility to enforce rules and guidelines for proper maintenance. One such standard is the appearance of the home's exterior. This greatly affects curb appeal, and on a grander scale will affect the overall property value. A dirty home exterior can also leave a negative impression on prospective buyers of any house in the entire subdivision. It behooves the HOA to make the availability of home exterior cleaning as accessible as possible to neighborhood homeowners.
This is why Midwest Softwash and Pressure Wash offers contracts to work with HOA's. We are the premier choice in Illinois for pressure washing, softwashing, roof cleaning and home exterior washing. We offer affordable and quality exterior cleaning that safely and effectively leaves your home's exterior pristine as the day it was built. Our technicians are always courteous and professional and we take pride in getting the job done quickly and efficiently. You'll be amazed at the level of clean we can achieve with our equipment and experience. Securing a contract with Midwest Softwash and Pressure Wash means your homeowners get a discounted bulk rate and timely and reliable service. You'll never have to worry about your subdivision's housing exteriors again because we are thorough, detailed and we will prioritize your neighborhood's needs. You could even include a regular schedule of cleaning for each house in your HOA dues and have peace of mind knowing your neighborhood will remain sparkling clean.
Our HOA Cleaning Professionals Provide the Following Services
Softwashing
Roof Cleaning
Pressure Washing
Brick & Siding Washing
Cleaning Tips From Your Midwest Pressure Washing Company – Midwest Softwash and Pressure Wash
Insurance Companies Are Noticing Dirty Roofs

Homeowners across the county are receiving letters from their insurance companies threatening to cancel their home policy due to the algae/fungus that is growing on the roof. It is happening more and more and across all parts of the country. This video shows a homeowner that […]

Top Reasons to Hire a Danville Roof Cleaning Service

There are several different benefits to having your roof cleaned by a professional exterior cleaning company. Your roof is a strong, solid structure that requires the proper maintenance to ensure its longevity. Part of the proper roofing maintenance involves cleaning your roof regularly. Roofs can be made […]