Your Midwest Pressure Washing Specialists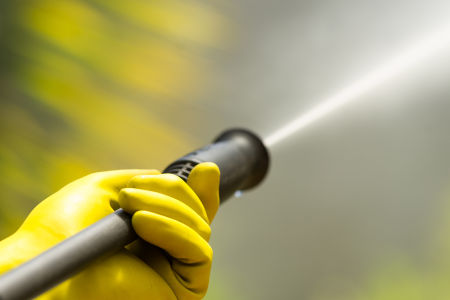 Pressure washing is an effective and precise means of harnessing high powered jets of water to safely cut away stains on wood and concrete. Over time wooden decks, fences, concrete and other exterior elements will accumulate mildew, grease, rust and other stains. The easiest and quickest way to maintain your home's exterior is to have these surfaces pressure washed by a professional. At Midwest Softwash and Pressure Wash we've been pressure washing home exteriors since 2010. We are experienced and skilled and we'll leave your exterior surfaces looking as clean as the day they were built. With the power of high pressured water, layers of mildew and grime can be easily stripped away, leaving behind only the pristine and natural looking surface underneath.
Have you been wanting to get rid of all of those oil spots in the garage? Or perhaps your back deck is looking worn and rotted? Maybe your brick steps have lost their luster and turned from bright red to a grayish brown? Whatever the stain on whatever the surface, Midwest Softwash and Pressure Wash has the skill and proficiency to get rid of it and make your surface sparkle again. That is why we are the best in the Midwest when it comes to pressure washing professionals.
At Midwest Softwash and Pressure Wash we strive to offer the most complete variety of pressure washing options. From wooden decks to wooden fences, driveways, patios and sidewalks, whatever your exterior surface, we can harness the power of water to clean it. We'll even do your entire brick home. Pressure washing is very effective at removing stains and grime, but will leave your surfaces intact. Having clean exterior surfaces is important, not just for the guests and family you entertain, but also for your home's property value. Pressure washing can add curb appeal and can also add years to the life of your wooden structures like your deck.
Our Pressure Washing Professionals Provide the Following Services
Concrete Driveway & Sidewalk Pressure Washing
Brick Washing
Home Exterior Washing
Deck Restoration
Patio Washing
Fence Washing
Gum Removal
Paver Walkway Washing
Home Entrance Pressure Washing
Cleaning Tips From Your Midwest Pressure Washing Company – Midwest Softwash and Pressure Wash
Insurance Companies Are Noticing Dirty Roofs

Homeowners across the county are receiving letters from their insurance companies threatening to cancel their home policy due to the algae/fungus that is growing on the roof. It is happening more and more and across all parts of the country. This video shows a homeowner that […]

Top Reasons to Hire a Danville Roof Cleaning Service

There are several different benefits to having your roof cleaned by a professional exterior cleaning company. Your roof is a strong, solid structure that requires the proper maintenance to ensure its longevity. Part of the proper roofing maintenance involves cleaning your roof regularly. Roofs can be made […]