Top Reasons to Hire a Danville Roof Cleaning Service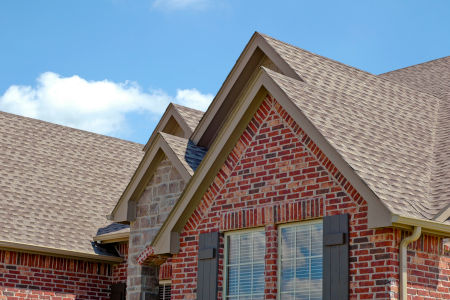 There are several different benefits to having your roof cleaned by a professional exterior cleaning company. Your roof is a strong, solid structure that requires the proper maintenance to ensure its longevity. Part of the proper roofing maintenance involves cleaning your roof regularly.
Roofs can be made out of a variety of different materials, and they can be shaped in a variety of different ways. No matter what type of roof you have on your Danville home, it needs to be properly cleaned to increase its durability. Properly maintaining your roof involves having it cleaned by a professional exterior cleaning contractor. There are multiple reasons why your roof will benefit from a professional Danville roof cleaning service.
Improve the Appearance of Your Home
The roof of your home is a large part of your home's appearance. If you allow your roof to be dirty and riddled with black streaks, can harm how others view your home. The curb appeal of your house can dramatically affect the value of your home. How your home looks from the outside plays a big part in buying and selling a home. It is also an important contribution to the overall look of the neighborhood.
One of the best ways to improve the look of your home is to have hired a professional for a Danville roof cleaning service. A professional roof cleaning service will eliminate any black streaks, moss or mold that is growing your roof. These stains can be unsightly and take away from the overall appearance of your home.
Avoid Damages
When y our home's roof has black streaks, mold build up or moss growing on it, it not only looks terrible, but these ugly spots are damaging the structure of your roof. A professional roof cleaning company can use a solution to clean your roof and eliminate any of these contaminate without damaging the overall structure of your roof.
Using power washer to clean your roof by yourself is a terrible idea. It is dangerous and the heavy pressurized water from the machine can damage the structure of your roof. A homeowner should hire a professional contractor that uses a soft washing system to clean a roof without harming it.
Danville Roof Cleaning Is More Affordable Than You Think
While hiring a professional to clean your roof now is going to cost you money, it will be well worth it in the long run. The small fee that you pay for roof cleaning will save you money on roofing repairs and roofing replacements.
Leaving your roof filled with dirt, mold, black streaks and moss can harm the structure of your roof. Once the structure of your roof is damaged, the only option is a costly roofing replacement. Hiring a professional cleaning contractor to clean the exterior of your roof is more affordable than you realize. In fact, average roofing cleaning cost only 3-5% of an overall roof replacement cost.