Collinsville's Premier Choice for Pressure Washing Professionals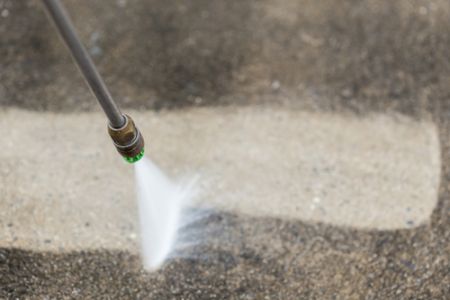 Are you tired of the oil and grease spots on your garage floor or driveway? How about the rust stains from the paint cans on your back porch? Or perhaps you have mildew on your brick pavers leading up to your house? Whatever the stain, whatever the surface, you need professional pressure washing from Midwest Softwash and Pressure Wash. At Midwest Softwash and Pressure Wash we offer the most comprehensive pressure washing options available to Collinsville. Our adjustable pressure equipment utilizes the power of water jets to peel away layers of grime, mildew, grease and stains. It's even powerful enough to remove those unsightly gum spots.
At Midwest Softwash and Pressure Wash we offer pressure washing for your brick and concrete surfaces. That means we wash your garage, driveway, sidewalk, porch, patio, walkway or whatever surfaces you have. We'll make your exterior surfaces look brand new. They'll sparkle with a clean you haven't seen in years. Then you can feel good about having family and friends over again. Pressure washing also helps to add curb appeal, which is important if you plan to sell your property. Whatever your pressure washing needs, you can count on Midwest Softwash and Pressure Wash.
Top Roof Cleaners in All of Collinsville
Your roof is arguably one of your most valuable investments. It protects you and all of your possessions from the elements. Over time, that protection comes at a cost. When your roof starts to develop black streaks, that is because mold is growing on it. It spreads rapidly and may even fool you into thinking your roof has a serious problem that cannot be fixed. Before you go prematurely pricing new roofs, call on Midwest Softwash and Pressure Wash. We are the Collinsville area's roof cleaning experts. Our non-pressure roof cleaning method will completely eliminate mildew and mold at its source without doing any damage to your fragile shingles. This will only leave behind a pristine and shimmering clean roof.
Our non-pressure roof cleaning technique works on shingles of all types, from asphalt to cedar shake. Whatever the material, we can clean it. Restore the beauty of your home by cleaning its biggest asset. With no trace of stains or mildew left behind, your neighbors will think you had a new roof installed over the weekend.
Revitalize Your Collinsville Home's Exterior
Your home's exterior often makes the first impression for you. It is a symbol of your tastes and commitment to your image. When your home is covered with grime and dirt, it can soil that image. It is important that you let a power washing and softwashing expert like Midwest Softwash and Pressure Wash assist you. With Midwest Softwash and Pressure Wash, your home will look as clean as it did the day it was built. With our controlled pressure equipment and softwashing solutions, your vinyl siding, brick or wood exterior will be completely rid of grime and mildew. We also remove long set in rust stains. No matter the material, we can get it clean. Our methods are precise, from the high pressure washing of brick pavers to the n non-pressure techniques used on your siding, no matter what your surfaces will gleam with a sparkling clean. We also offer wooden deck restoration and home entrance cleaning. We won't leave any element of your home unclean because we are the home exterior cleaners you can count on.