VINYL FENCE CLEANING SERVICES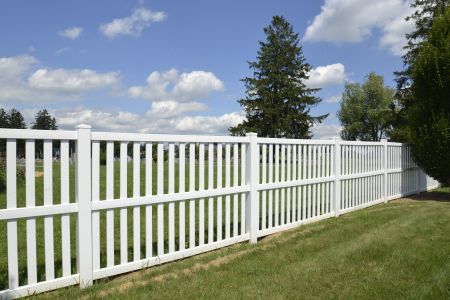 If your vinyl fence is starting to show black stains and streaks on it after being exposed to punishing weather for years, you might despair and think that it is about time to replace your fence. While these stains may seem impossible to remove, and remain there even after the most vigorous cleaning attempts, this is far from the truth. With the right tools and training you can have your fences looking like brand new again, completely eliminating even the worst stains, and restoring the luster to your fences.
When you turn to the skilled staff at Midwest Softwash and Pressure Wash you are getting years of experience as licensed and certified pressure and soft washing cleaning professionals. We come equipped with the right tools to handle your cleaning needs with ease, and have a special environmentally friendly cleaning solution that can remove any stains from your vinyl fence without threat to your yard or the environment. The assistance of a professional cleaning service will make all the difference in getting the results that store bought cleaning simply cannot provide.
When it comes to your vinyl fence cleaning needs, all you have to do is turn to the experienced staff at Midwest Softwash and Pressure Wash to get the results that you are after!
Why You Should Choose Us
With years of experience providing for the exterior cleaning needs of the Midwest area, we know what it takes to have your home looking the best it has in years. We have the right tools and equipment to handle any exterior cleaning solution, all while safely and efficiently removing grime, black streaks, mold, and mildew stains from your fences, siding, and roofs, without the threat of damage to your home. Our superior cleaning solutions will have your home looking the best it has in years.
We take great pride in the high levels of customer service quality that we have maintained during our time in Midwest and know that you will be more than pleased with the results. Each of our contractors takes great pride in the services that they provide, and has your satisfaction as their first and foremost concern.
Cleaning Tips From Your Midwest Pressure Washing Company – Midwest Softwash and Pressure Wash
Insurance Companies Are Noticing Dirty Roofs

Homeowners across the county are receiving letters from their insurance companies threatening to cancel their home policy due to the algae/fungus that is growing on the roof. It is happening more and more and across all parts of the country. This video shows a homeowner that […]

Top Reasons to Hire a Danville Roof Cleaning Service

There are several different benefits to having your roof cleaned by a professional exterior cleaning company. Your roof is a strong, solid structure that requires the proper maintenance to ensure its longevity. Part of the proper roofing maintenance involves cleaning your roof regularly. Roofs can be made […]